Where is Elafonisi Beach?
Elafonisi beach is one of the finest beaches in Crete, Greece. Located at a distance of 75 kilometers from Chania, a small but very graphical city of Crete. Elafonisi is also called Elafonisos or "island of deers", but don't get too excited or scared, as you won't see any of these lovely creatures around.
It's a great place to relax on vacation and enjoy nature.
What does Elafonisi Beach offer?
In the summer, Elafonisi beach on Crete is one of the best places to visit in Greece. There are plenty of things to do and see at this popular beach.
You can start your day off with a swim in the clear waters or take a boat trip around the island all the way to Paleochora. If you are stopping by here on your way to somewhere else in Crete, you can spend the night in one of the many BnBs and resorts nearby.

Elafonisi Beach is a sandy beach with crystal clear waters, making it a perfect place to swim and snorkel. There are some shallow areas in the water where you can wade in up to your knees and there are also areas with deeper water that are also great for swimming. You will find many different kinds of fish in the water here and seeing them is so much fun! You will also find many small caves which are great for exploring – be careful though as some of them go quite deep into the sea!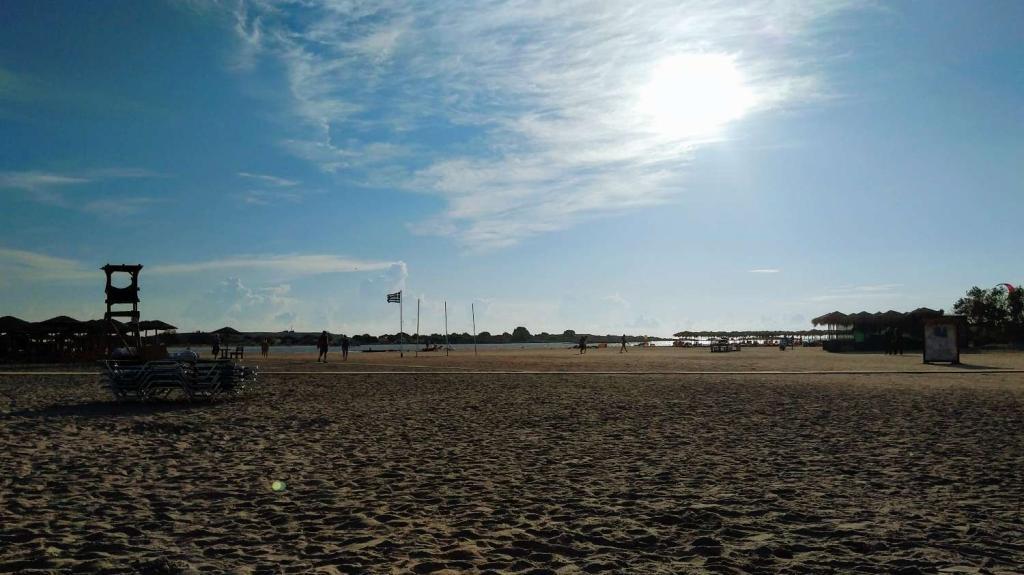 There are also plenty of good traditional tavernas if you want to eat out, where you can enjoy your meals with fresh fish from the nearby sea or you can taste typical Cretan foods such as dakos, Cretan salad, grilled meat (paidakia), etc but you can always bring a picnic and find a nice spot under a tree to enjoy it.
During the summer months, there are lifeguards who control the safety of visitors. There are also umbrellas, sunbeds, and water sports facilities available at Elafonisos such as kite surfing and sup board rentals.
There are 3 official canteens on either side of the beach where you can purchase drinks snacks and ice-creams.
How to get to Elafonisi Beach
If you're driving there, it's about 1h 45 minutes from Chania Airport and a three-hour drive from Heraklion airport. Another way to visit Elafonisi is by taking the ferry from Athens to the port of Chania and then driving for 1h 30 minutes to get there. There is also a public bus that drives there every day from the city of Chania. Keep in mind that if you want to explore the area and the hidden beauties that lie around it is totally recommended to visit the area by car.

Once you reach the beach you will see a large parking lot. Make sure not to leave valuables in your car as it's not organized (but don't worry, thieves are non-existent in Crete).
The best time to visit Elafonisi beach
The best time to visit Elafonisi beach is between the months of May and October. In these months, temperatures are mild with an average temperature of 30°C.
Between the month of July and September (incl.), is the busiest period of Elafonisi, as thousands of tourists visit the place every day. This makes it quite difficult to find an empty sunbed or an umbrella between 11 am and 5 pm. After 6 pm you can usually find an umbrella easily and for free, while you have the chance to enjoy the most beautiful sunset of your life.

If you can carry your own beach umbrella though, there is good news for you. Try to avoid the first organized part of the beach and move towards Elafonisi island where there is plenty of space and privacy away from too many tourists. Don't forget to take some drinks and snacks with you though, as you don't want to walk all the way back to the canteens every now and then.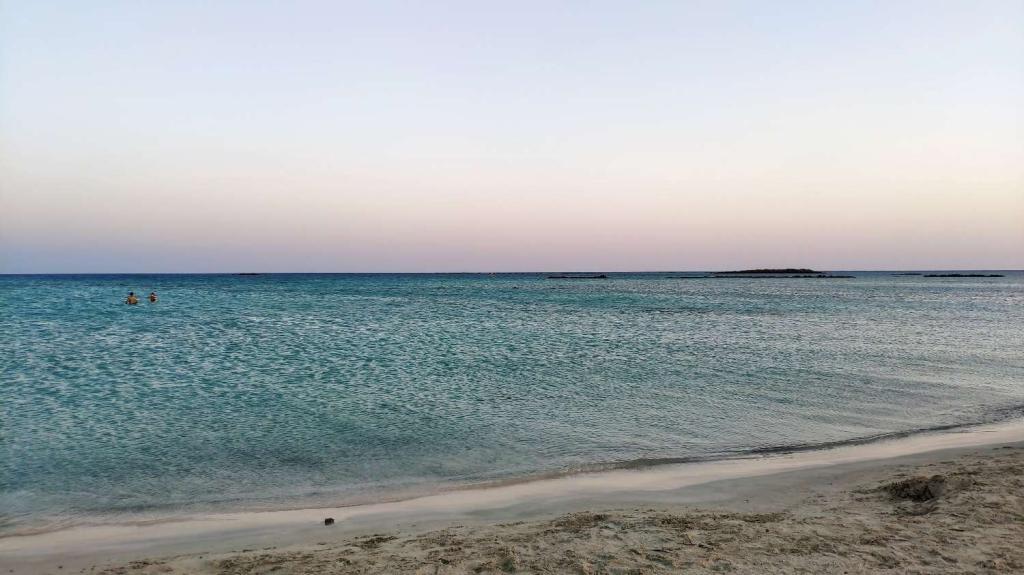 Where to stay in Elafonisi, Crete
If you are looking for a peaceful vacation, away from big hotels, Elafonisi is the perfect destination. This little island has retained its charm and natural beauty for centuries.
There are only a few resorts around Elafonisi but there are many amazing BnBs in the surrounding villages. Compared to other destinations of Crete, studios and apartments in the area are cheaper while the quality and the hospitability of the people are amazing!
An exploration of the map on Airbnb or Google will return several options to choose from.
Be careful though! It is highly advertised that you can book a room on Paleochora, which is less than 10Km away on the map, and visit Elafonisi from there. This is not necessarily a bad idea, but you need to know that the driving distance between the two is about 1h, so not as close as it first looks on the map.

You can also have a look at our properties located 15 minutes away from the beach.
Takeaway
Elafonisi Beach is one of the best things to see on Crete. It's the perfect place to relax and get away from it all, and we can't think of a better way to see the sunset than at Elafonisi Beach. It doesn't matter if you're traveling with your significant other or with friends—you will find a place at this beach that everyone will enjoy. Plus the island's fresh seafood and phenomenal local wines don't hurt either.
It is a stunning destination that is definitely worth visiting, even if you do choose to explore other parts of the region while you're in Crete. So book your tickets, grab your swimsuit, and start planning your own trip.
Tip
There are a few things to bear in mind when planning your trip to Elafonisi Beach. You should bring plenty of sunscreens, a hat, and some comfortable clothes. Don't forget the sunglasses and a camera, too. Also, you will have to take a little walk to get down to the beach, so wear appropriate shoes. The sand is very fine and soft there.